QUICK NOTE: This script doesn't work quite as seamlessly with the melee script as I'd like, but apart from that it allows for smooth 8-directional movement. If your melee weapon is showing up in odd places, make sure you've set up the weapon offsets for your diagonal directions.
Here's a quick demonstration of the movement script in action!
Step 1: Download the rar file and export to the UserScripts folder in your NESmaker.
You should be able to find it at the bottom of the post, if that doesn't work for you I'll post it on the NESmaker Files website here soon.
Step 2: Open your MainASM.asm file and, near the bottom right after ".include "GameData\HUD_DEFINES.dat"", insert the following code:
Code:
 .include "Routines\UserScripts\movement_tables.txt"
It should now look like this: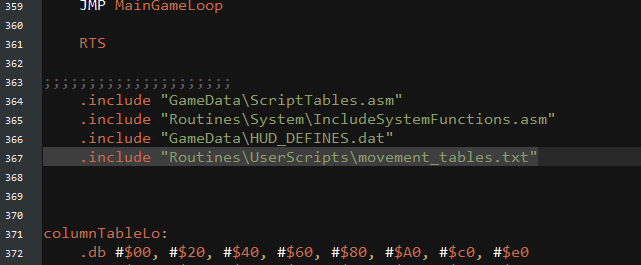 Important: make sure the movement_tables.txt file is in UserScripts and not a subfolder, otherwise it won't find it.
Step 3: Load the movement_8direction.asm file into your Input Scripts and set up your Input Manager like so:
(ignore the b_create_melee.asm one, that's from testing it with the melee script)

Link the script to each individual directional button Press and Release so that it updates seamlessly when you change direction.
Step 4: You're done! Bask in the buttery smooth 8-directional movement goodness!
TROUBLESHOOTING NOTES:
If you're having trouble, please read these!
If the game is freezing on you when you press one or all of the directions, try making sure that you have at least 4-5 scripts loaded in your Input Scripts. For some reason it sometimes gives these scripts trouble if there's only one or two scripts in there.
It's recommended that you set your character's acceleration to max when using this script. While this script works with lower accelerations, the way NESmaker handles acceleration sometimes makes your movement act strangely. (For instance, if you hold up for a few seconds and then quickly tap down, your character will continue accelerating upward despite not pressing any of the d-pad buttons.